Categories
Working the Largest AGT Audition in History
The last few days have been a whirlwind for me. America's Got Talent came through Cincinnati on their audition tour, and hired me on as a Production Assistant in the Reality Department.
Crazy. Absolutely crazy. I've never seen anybody do organized chaos as well as the AGT crew. We had the largest number of auditions in the show's history, but from the inside you wouldn't really have noticed because the production process was so smooth. WLWT reported over 6,000 contestants stopped by to try out and the Producers had told us they were expecting 2,000. Cincinnati definitely showed up, and I talked to people from Illinois, Pennsylvania, Georgia and all over who had come to town just to audition.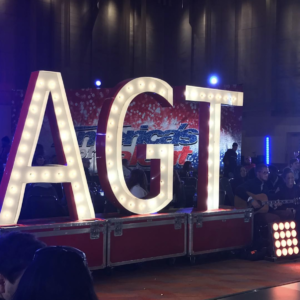 The energy in the Holding Room, where I spent most of my day, was at full tilt for nearly 12 straight hours. This is the first stop on a contestants journey, where they hang out until their numbers are called. So everywhere you look there's fantastic characters, people playing instruments and singing, multiple camera crews setting up shots, conducting interviews, coordinating stunts with acrobats and organizing people for future shots.
As a Reality PA, my job was to search through the throngs looking for talent for the producers to film. With only 1 day of auditions, the crew have to get the most out of every minute available, so they film everything possible. I was surprised to learn that the stylized close ups of people's faces they often use in montage on the show aren't actors in a million dollar Hollywood soundstage, they're real contestants from the crowds. Makes sense, but I always just assumed some of the show was supplemented with studio work. Efficient, real and less expensive. Turns out AGT is still nimble, despite being such a huge production.
At this point you're probably wondering why this isn't just a post full of behind the scenes selfies. Even if I had time to stop and snap some shots, which was impossible because I didn't stop moving for 15 hours, I wouldn't be able to share. Everybody's got secrets, and AGT is no exception. But I've never seen so many people taking pictures in one room before, because every contestant was updating Instagram and Snapping like crazy all day. The photos I've included are some I came across on Instagram, and you can find plenty more under #AGT.
If you're wondering what an America's Got Talent Audition is like, just check out this video from @aaron.staccato at the end of the post. This sums it up pretty well.
Two of my favorite parts of this clip:
It starts with a lady screaming "OHH MY GOD!" because a guy just pulled some amazing dance move off camera. This type of thing happened every few minutes as people's minds were blown by other contestant's talents.
It ends with the guy running into someone he knows. She asks what he's up to and he says "I'm here to support a friend, but I'm gonna go ahead and rap while I'm here." THAT is what I'm all about, and working for AGT was a big dose of people going for it, chasing dreams and breaking through nerves and barriers to be creative. Today I feel pretty inspired by the spirit people brought to America's Got Talent.